Intervention by PM raises expectations of a deal with backbenchers over legislation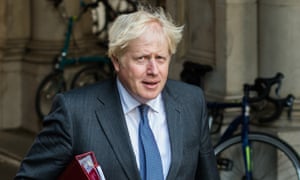 Boris Johnson has privately sought to calm angry MPs who plan to back an amendment to dilute his bill that unpicks the EU withdrawal agreement.
His intervention raises expectations that the government will do a deal with backbenchers at a parliamentary showdown next week.
More Conservative MPs have said they could join a rebellion against the government to block a breach of international law, unless an agreement is reached.
However, the Guardian understands Johnson has spoken to a number of key MPs behind an amendment that would put a "parliamentary lock" on using the controversial powers in the internal market bill and given reassurances that a deal can be done over the clauses that override parts of the withdrawal agreement.
The PM is said to have privately conceded to MPs who spoke to him on Monday night that the admission by Brandon Lewis, the Northern Ireland secretary, that the bill broke international law had been the wrong tactic.
Several MPs said they now expected the government to give assurances when the amendment from Conservative MP Bob Neill comes back to the House of Commons would persuade them to back the government. It is thought those concessions could come at the debate or after the bill comes back from the Lords if peers amend the legislation.
"I think the government is eventually going to get its way on this," one senior rebel MP said. "There will be a deal."
Although the UK internal market bill passed with a comfortable 77 majority at its second reading, the focus in Westminster is next week's vote on the Neill amendment.
At present, controversial measures in the bill would hand unilateral powers to ministers in key areas yet to be agreed with the EU, breaching the terms of the treaty agreed in January. Neill's amendment would ensure the powers in the bill that breached the Northern Ireland protocol would not be used until there was another specific vote in parliament to use them, as a last resort.
Should no deal be reached with the government, supporters of Neill's amendment believe there may be a number of MPs who, having voted with the government on Monday as a way of demonstrating support for its purpose but uncomfortable breaking international law, could be persuaded to back the amendment.
Andrew Mitchell, the former international development secretary, told the house he was content to let the bill pass to second reading but would not then vote to pass a bill into law that would break an international treaty. "I do not believe I have ever gone into a lobby to vote in a way that I knew was wrong, and I will not be doing it on this occasion either," he said.
One MP said they agreed with "95% of the bill" and wanted to see it pass to second reading. "But I am uncomfortable with the three clauses and I will see what happens this week."
A number of MPs who abstained still believe Neill's amendment does not go far enough. "These are pernicious clauses and I'd rather see them out of the bill altogether," said one prominent rebel. "I may be prepared to go further if there was a viable option to do so."
The justice secretary, Robert Buckland, whom one source said was "wobbly" over parts of the bill, is due to address restive MPs at a meeting of the 1922 Committee of backbenchers on Wednesday evening.
The list of Conservative MPs who deliberately abstained on the internal market bill is now known to be at least 20, including two former Northern Ireland secretaries – Karen Bradley and Julian Smith.
Other senior Conservatives who abstained include two former attorney generals, Geoffrey Cox and Jeremy Wright, the former chancellor Sajid Javid, the vice-chair of the 1922 Committee, Charles Walker, and a number of other select committee chairs, including Simon Hoare and Tobias Ellwood.
No 10 would only say publicly on Tuesday that MPs would get a standard vote on invoking the powers contained within the bill as a statutory instrument (SI). That vote would take place only after ministers had taken the decision to use those powers, and would not prevent a potential breach of international law.
Neill has said such an assurance was not enough and a standard SI vote would not provide enough opportunity for scrutiny.
The bill is also likely to face a difficult passage in the Lords, where even veteran Brexiters, such as Norman Lamont, have spoken against its implications.
However, a No 10 spokesman said the Salisbury convention, a non-statutory but widely respected rule saying the House of Lords would not vote down policies in a governing party's election manifesto, applied to the internal market bill.
"Guaranteeing the full economic benefit of leaving the EU to all parts of the United Kingdom and ensuring Northern Ireland's businesses and producers enjoy unfettered access to the rest of the UK were clear Conservative manifesto commitments which this legislation delivers," the spokesman said.
Some peers are likely to contest this interpretation, because the Conservative manifesto also said the party would implement the Brexit deal.
"The Lords is going to be a totally different game," one MP backing the rebels said. "I think Boris and Dominic Cummings are going to be shocked at the visceral anger at some of the constitutional lawyers up there."
On Tuesday, William Hague became the latest senior Conservative and fourth former Tory leader to criticise the bill, joining Theresa May, David Cameron and Michael Howard.
Hague, a former foreign secretary, said passing a law that would deliberately abrogate an international treaty would be a "serious foreign policy error" that would "have a lasting and damaging effect on our international reputation and standing, diminishing our ability to exert our influence and protect our interests".
Labour sources in the House of Lords said opposition among peers was likely to focus on amending individual clauses of the bill, rather than throwing it out.
They questioned whether the Salisbury-Addison convention, which implies the Lords shouldn't prevent a government from implementing its manifesto, was relevant, pointing out that the Tory manifesto said the government would: "get Brexit done".
Any clash in the Lords is unlikely to be imminent, since peers rarely amend bills until their report stage, which for this legislation is not expected until mid- to late November – by which time it should be clearer whether a no-deal exit is a possibility.