Scott Morrison has been accused of politicising a family funeral to attack Annastacia Palaszczuk's policy. Follow all today's news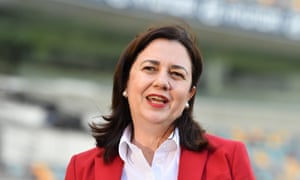 It is also 14 September, which means some Melbourne restrictions will be eased, including a shift of the curfew hours to 9pm to 5am (curfew hours will never not be strange to write)
As AAP reports:
From Monday, people living alone or single parents will be allowed to have one other visitor as part of a "social bubble".
Outdoor exercise is extended to two hours split over a maximum of two sessions, allowing social interaction with one other person or household members.
Playgrounds and outdoor fitness equipment will reopen and the nightly curfew will start an hour later at 9pm before finishing at 5am.
The 14-day case average for Melbourne sits at 56.9, inching closer to the sub-50 target.
Melbourne will move to the "second step", including increased limits for public gatherings and a staged return to school for some students, from September 28 if the average falls to 30-50.
"If you project forward 14 days, you would expect the 14 day rolling average to the end of September would be absolutely no more than 48," Victoria's chief health officer Brett Sutton said.
"It is more likely to be between 20 and 30, I would hope."
People in regional Victoria will also enjoy greater freedom from Monday with up to five people able to gather in outdoor places from a maximum of two households.
The five-person limit will also apply for religious services that can resume in regional Victoria if they're held outdoors with a faith leader.
Authorities are hopeful regional areas could jump two steps out of lockdown by mid-next week, allowing residents to go out for a coffee or meal.
The Labor government on Sunday announced a $3 billion suite of cash grants, payroll tax deferrals and fee waivers, described by Premier Daniel Andrews as "the biggest package of business support in the history of this state".
There will be payroll tax deferrals for up to 12 months for businesses with payroll of up to $10 million a year, coming at a cost of some $1.7 billion to the state.
Business groups welcomed the support but renewed calls for the government to reopen the state as soon as possible.
Tensions remained high in parts of Melbourne.
More than 70 people were arrested as anti-lockdown protesters gathered at the Queen Victoria Market, with some throwing fruit at police after raiding market stalls.
Victoria on Sunday reported 41 new cases and seven further deaths.
Good morning
It is the 38th week of 2020. Or, in real terms, week 104.
Of course we are still talking about the same things we were talking about last week.
Queensland is under pressure to move on its borders, or at least come up with another roadmap out of its border closures, as personal cases highlight the wider pain. But the federal government hasn't come out of the muck smelling like roses either – there is pushback over the politicisation of people's individual tragedies.
As Matilda Boseley reports:



The daughter of a Queensland man whose funeral was at the centre of a federal-state brawl about border closures has accused Scott Morrison of using the case to "advance his political agenda".

Alexandra Prendergast said in an open letter to the prime minister that his actions were "absolutely disrespectful" to families who had not been granted permission to attend relatives' funerals.

It was "heartbreaking" that the prime minister had "presented himself as being empathetic and understanding" but had not considered the ramifications of his actions for family members, Prendergast said.
And on Insiders yesterday, Peter Dutton tied himself in knots over why Tony Abbott was given permission to leave the country, but so many others are still fighting to be able to head overseas for compassionate reasons.
You'll be hearing more about recovery this week, as we inch closer to the budget. Victoria has released its $3bn business recovery plan, which has had a mixed response. The federal government will come under pressure over the jobkeeper and jobseeker tapering that is about to kick in, despite the economy being no where near open.
Also on Victoria, there will be questions over the police response, after disturbing footage of a woman being pulled from her car, and riot police walking through the markets in response to lockdown protests.
There are still questions over the modelling the Victorian government has used to shape its roadmap – Daniel Andrews says its time to move on from that, as it is real time data which counts, but given the plan which has been built around the modelling, questions will be asked.
We'll keep you up to date with all the day's events as they happen. You have Amy Remeikis with you for most of the day.
Ready?
Updated