Labour's shadow health secretary says government must pinpoint how new restrictions will work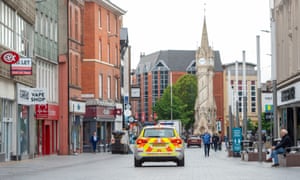 Downing Street has been accused of sowing confusion and anxiety in Leicester as it imposes the first local lockdown to combat a surge in Covid-19 cases in the city, with Labour's shadow health secretary demanding the government pinpoints how the measures will work.
In an evening statement to the Commons on Monday, health secretary Matt Hancock announced that schools will shut to most children and reopened shops forced to close as restrictions are strengthened and continued for two weeks in Leicester.
Both Labour and the Liberal Democrats back the lockdown in the city but criticism is brewing over the government's handling, with the parties calling for clarity over how it will actually be imposed.
The measures mean the city, where more than 300,000 people live, will be set on a different path from the rest of England which will enjoy new freedoms, including the reopening of pubs and restaurants from 4 July, on what has been labelled "Super Saturday".
Enforcing an extension to the Leicester lockdown will mean changes to the law, Hancock said on Monday morning. But Labour's Jonathan Ashworth, whose constituency is Leicester South, urged him to hold a press conference to answer questions on the lockdown.
"The government's response to the situation in Leicester has left people anxious and confused," the shadow health secretary said. "We support the government's decision to reintroduce lockdown restrictions. However, there are a number of outstanding questions about how the government intends to implement these restrictions and get the outbreak back under control."
Hancock told the Commons the measures – which will be reviewed in two weeks – will also apply to the surrounding areas of the city, including Oadby, a town three miles south, and the villages of Glenfield and Birstall, three miles north.
However, Ashworth said it was not clear how this would work, adding: "There is confusion about essential travel and what it means for people who travel to work outside the boundaries. There is also no clarity about what extra resources will be put in place to increase testing capacity and what financial support will be available to businesses.
"No 10 said the afternoon press conferences would now only take place if the government had 'something really important to say'. We believe the situation in Leicester meets that criteria."
A source close to Hancock hit back: "We set this out in parliament yesterday, and took questions for an hour. Labour used to complain that we announced things at press conferences rather than coming to parliament to announce them. I think they are a bit confused about their own position."
Acting Leader of the Lib Dems Ed Davey added: "I support the plan to lockdown Leicester; the first priority is keeping people safe. However, the Government has been totally unclear about how it will enforce the lockdown or whether it even has the legal power to enforce it.
"Senior ministers have said for months as the national lockdown ends local lockdowns are likely, but there seems to have been almost no planning of how this will work in practice.
"Will there be roadblocks or checks? Will extra funds be made available for businesses and individuals who were just getting back on their feet after months of lockdown?
"
The move in Leicester has been prompted by a surge of cases in recent weeks, with infections increasing by nearly 950 in a fortnight according to Leicester city council. Meanwhile, one in 10 Covid-19 cases in the country in the last week were in Leicester.
Non-essential shops, only allowed to reopen earlier this month as part of lockdown easing, will close from Tuesday, and schools will shut to all but a small number of children from Thursday.
The health secretary said that in some cases the local lockdown would be enforced by police.
Speaking to Sky News on Monday morning, Hancock said: "We will be bringing forward a legal change very shortly, in the next couple of days, because some of the measures that we've unfortunately had to take in Leicester will require a legal underpinning.
"We will be making the legal change so non-essential retail is no longer open."
Asked if people from Leicester will simply drive to other locations to go to pubs and restaurants this weekend when they open in the rest of the country, Hancock said: "We're recommending against all but essential travel both to and from and within Leicester, and as we saw during the peak, the vast majority of people will abide by these rules.
"Of course we will take further action, including putting in place laws if that's necessary, but I hope that it won't be."
In his round of morning media interviews, the health secretary said Keighley in West Yorkshire and the London borough of Enfield had also been on the government's radar for outbreaks but the local authority and government were able to put in "targeted action" that had worked. But Bradford Council disputed there was an outbreak in Keighley, suggesting the health secretary was mistaken and had meant Kirklees.
The same results had not been achieved in Leicester, Hancock said, despite sending in mobile testing units and working with businesses such as food factories where there were virus outbreaks among staff.
Leicester's mayor, Sir Peter Soulsby, said the government was aware of an outbreak for two weeks and had not shared vital data with the local authority. He told the BBC: "Since then, we've been struggling to get information from them [the government] about what data they had, what led them to believe there was a particular problem here, and struggling to get them to keep the level of testing in Leicester."
He said they were only given access to testing data last Thursday.
"I wish they had taken a more speedy decision rather than leaving it 11 days from the secretary of state's first announcement … That's a long gap, and a long time for the virus to spread."
Steve Reicher, professor of social psychology at the University of St Andrews, who has advised the UK government on coronavirus, said the approach to local lockdowns should be a well resourced community response, and not centrally imposed, which he predicts will be "a recipe for disaster".