Catherine Calderwood apologises after visiting second home despite issuing advice to 'only go out when necessary'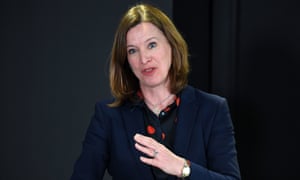 Scotland's chief medical officer has been forced to step back from public briefings after a furious reaction to news she broke her own rules to twice visit her second home during the coronavirus outbreak.
But despite mounting calls for Catherine Calderwood to resign from her position, Nicola Sturgeon on Sunday insisted that she would continue to play a key role in guiding the Scottish government's response to the crisis.
The announcement that she would step back from her public role – including from an information campaign she had fronted – capped an excruciating day for Calderwood. Earlier it emerged that she had visited her seaside holiday home in Fife twice over the last 10 days, including with her children this weekend, despite repeatedly warning the public that non-essential journeys risked lives.
With opposition parties and members of the public calling on Calderwood to quit, Police Scotland's chief constable, Iain Livingstone, said his officers had given Calderwood a formal warning about her conduct after visiting her home on Sunday.
In a remarkable intervention designed to shore up public confidence in the lockdown, Livingstone used his force's Twitter feed to chastise the CMO.
"The legal instructions on not leaving your home without a reasonable excuse apply to everyone," he said. "Individuals must not make personal exemptions bespoke to their own circumstances."
The first minister said during her daily media briefing on the crisis that she was extremely disappointed with Calderwood's behaviour, but insisted she wanted her to stay in her post. "Whatever her reasons for doing so, she was wrong, and she knows that," Sturgeon said, adding that Calderwood had given her an unreserved apology.
"If I'm to do what I need to do, to steer this country through the crisis to the very best of my ability I need her to be able to focus on the job she is doing," Sturgeon said. "A job that – notwithstanding her mistake on this – she is doing extremely well."
In a clear signal Sturgeon planned to defend her, Calderwood stood alongside the first minister during the briefing, being broadcast live online. Calderwood said she was "truly sorry" for breaching her own advice not to travel, and acknowledged NHS staff had attacked her conduct.
"I have seen a lot of the comments from members of the public on Twitter today, people calling me a hypocrite, people telling me what hardships they have endured while following my guidance," she said. "What I did was wrong, I'm very sorry. It will not happen again."
Facing repeated questions about Calderwood's actions, Sturgeon was asked several times whether Calderwood had offered her resignation. Sturgeon refused to confirm or deny that she had, but hinted Calderwood had offered to step down and that her offer was rejected.
She said "the chief medical officer made clear to me she would do whatever she is required to do to in my judgment to be in the best interests of the country. It is my view that that would not be her resignation because that would deprive me and the government of her expertise."
As the controversy intensified during the day on Sunday, a Scottish government advert featuring Calderwood's warnings against all unjustified travel was still being broadcast, in which she said: "This is a vital update about coronavirus. To help save lives, stay at home. Anyone can spread coronavirus.
"Only go out when absolutely necessary for food, medicine, work or exercise… Stay home. Protect Scotland's NHS and save lives."
Labour and the Liberal Democrats urged Calderwood to quit on Sunday after the Sun published photographs of Calderwood, her husband, three children and dog taking walks near their second home in Earlsferry, in the East Neuk of Fife, on Saturday. That included a visit to a nearby beach.
Willie Rennie, the Scottish Lib Dem leader, and a local MSP, said residents in the picturesque village were furious about an influx of second home owners arriving there over the weekend. Backed by Scottish Labour, he said Calderwood's actions would weaken public confidence in the lockdown.
"The main street was described as being like a motorway and many second homes are full up," he said in a joint statement with Wendy Chamberlain, the local Lib Dem MP and a former police officer. "There is real concern that with a swollen population and a virus sweeping through the local health services will just not cope."
Sturgeon deflected questions about the candour of her government's first statements defending the chief medical officer's actions, and fielded questions which reporters had put to Calderwood.
On Saturday, the Scottish government said Calderwood had been working "seven days a week" and "she took the opportunity this weekend to check on a family home in Fife as she knows she will not be back again until the crisis is over."
That statement failed to explain why the whole family needed to go or stay overnight. During Sunday's briefing, Calderwood admitted she and her husband had also gone to Earlsferry the previous weekend – a fact not disclosed by the government on Saturday.