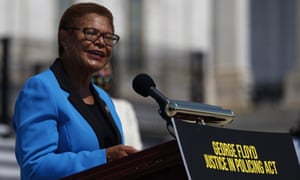 Good morning. As November's election approaches speculation over who Joe Biden will pick as his running mate mounts. The presumptive Democratic candidate for president has promised he will pick a woman as his running mate and his list of candidates is beginning to narrow.
CNN reports that 11 candidates are in the running. Kamala Harris remains the oddsmakers' favourite, and Biden was seen holding a list with her name and handwritten notes about the California senator on it.
However, in recent days, Karen Bass, congresswoman and chair of the Congressional Black Caucus, has emerged as a frontrunner, and Politico reports that members of Harris's team requested a meeting with Biden after learning their candidate was not a shoo-in for the VP slot. Harris is reported to have suffered after not showing contrition for remarks she made last year that appeared to depict Biden as racially insensitive.
Biden was supposed to name his running mate next week, but Politico reports the selection is now more likely to be announced in mid-August.
Other names in the running who have been vetted by Biden's team include Senators Elizabeth Warren and Tammy Duckworth; Florida congresswoman Val Demings; Atlanta mayor Keisha Lance Bottoms; and governors Gretchen Whitmer and Michelle Lujan Grisham.
Ed Rendell, the former governor of Pennsylvania and a Biden supporter, told CNN that Bass is seen as a safer choice than Harris.
"Kamala can rub some people the wrong way. Karen Bass is not likely to do that," Rendell said. "The number one rule for picking the VP? Do no harm."
One outside candidate gaining some momentum is Susan Rice, Barack Obama's former national security adviser
Updated